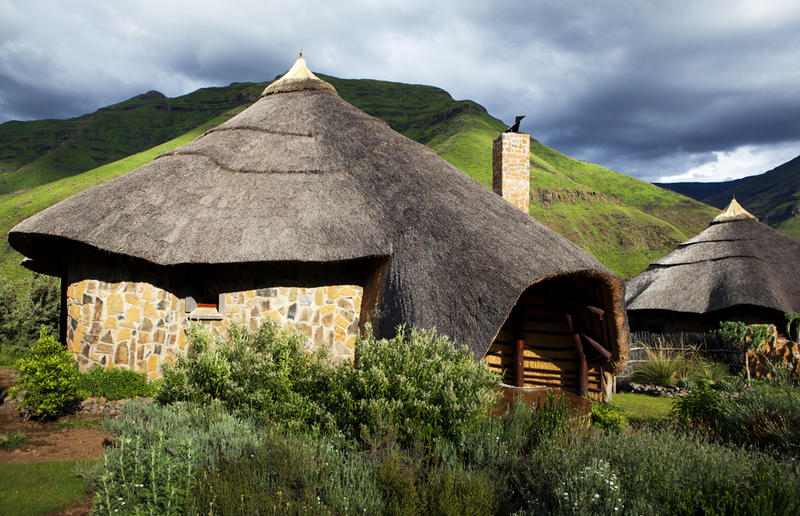 Located in the Royal Mountain Kingdom of Lesotho within the Tsehlanyane National Park,
Maliba Mountain Lodge
is a retreat set in a pristine sub-alpine wilderness valley deep in the North of Lesotho`s breathtaking Maluti/Drakensberg Mountains.
Over 5600 hectares of rugged wilderness mountain terrain is protected within this park, which includes one of the very few remaining indigenous old growth woodlands in Lesotho and a wide variety of flora and fauna which has historical significance to the Basotho people.
Dining:
Meals will be one of the many highlights during ones stay at Maliba. Open fireplaces fill the restaurant with warmth and character, setting the mood for that perfect evening.
All meals are expertly prepared to a high standard from fresh ingredients by the talented chefs. Meals are either served in the restaurant or on special request meals can be served in the private chalets for intimate and memorable occasions.
A fully stocked bar and wine cellar is available for guests to order whatever they decide compliments the exquisite food.
Inside Main Lodge Area:
The thatched lodge offers a spacious dining area and large open domed lounge, boasting four fire places and several secluded seating areas. The dining area and lounge open onto a covered verandah overlooking the spectacular Maluti Mountains.
There is a private dining and conference area on mezzanine floor above the bar. There is also a full bar service and communal satellite television.
Visitors Notes
- All visitor must hold documents and tickets required for their return/onward journey and sufficient funds to cover their stay.
- Visitors who wish to stay longer than 14 days should apply for extensions at the Lesotho Immigration Authorities within the initial 14 day period.
Accommodation at Maliba Mountain Lodge:
Guests are accommodated in one of six private and luxurious Basotho-style mountain chalets. Each chalet is over 80m2 in size and is tastefully decorated with natural earthy tones.
Warmth and comfort are key elements that have been incorporated into the design of the chalets. The warm design element has been expressed by under-floor heating, electric blankets, heated towel rails and wall panels which create a comfortable living environment for guests during the cooler months.
The highlight of the warm design element is the open fireplace in each chalet that sets the evening mood for a romantic discussion of the day`s events. A deep 2 person bath offers guests breathtaking views as one relaxes and soaks up the tranquil surroundings.
A private viewing deck, nestled in the trees provides guests with a completely unique way to touch the heart of the Lesotho Mountains, losing oneself in the charm of the peaceful surroundings.
Other accommodation exists within Maliba Lodge's concession area in the form of four self catering River Lodges. These thatched houses are modern and are situated at the junction of 2 rivers. Each contains 4 bedrooms and 2 bathrooms and are fully self contained and serviced.
Maliba Mountain Lodge Activities:
- Hiking
- Horse riding
- Swimming
- Bird watching
- Rock climbing
- Village and cultural tours
- Snow activities (seasonal)
- Dinosaur Footprint Tours
- Massages
- Archery
Maliba Mountain Lodge Map:
Clothing & Accessories:
- Walking shoes
- Warm clothes
- Valid Passport
- Camera/binoculars
- Sun cream
- Food and drinks (there are limited options once in Lesotho)
Health & Climate:
The climate of TNP, like high altitude areas elsewhere in Lesotho, is characterized by extremes of temperature, precipitation and wind speed.
As might be expected from the altitude of the park, temperatures are generally low, even in summer.
Considerable variations occur with changes in altitude and aspect.
North-facing slopes are generally warmer (and have different slope gradients) than south –facing slopes, which are generally cooler.
This is as a result of differences in incoming radiation.
Steep south-facing slopes are especially cold in winter because they receive little direct sun and are often shaded by surrounding mountains.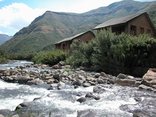 Grading:

Guest Rating:

(1 review)
Maliba River Lodges are self catering retreats set in a pristine wilderness valley deep in the North of Lesotho's breathtaking Maluti Drakensberg Mountains. The River Lodge offers cosy and modern fully serviced accommodation.
From:
R2050.00
per unit, Max: 8